Welcome to the Festival of Trees
Benefiting Primary Children's Hospital
A magical holiday tradition celebrating children's health in our Utah community, the 2023 Festival of Trees will take place at the Mountain America Exposition Center at the end of November. Incredible community volunteers create and donate the most beautiful holiday decorations including extravagant trees, stunning wreaths, hand-crafted gingerbread houses, and much more to be bid on in a silent auction. Funds raised during the Festival support the children at Primary Children's Hospital.
Registration will open July 3, 2023. Fill out this form to be notified when registration opens.
Thank You!
Because of your generosity and that of many others, we are on our way to transforming the delivery of children's healthcare. Your contribution helps us put The Child First and Always for gerations to come. You are truly making a difference.
About the Event
Start your Holiday season off with family and friends enjoying this festive event.
This 2023 Festival of Trees will showcase:
Beautifully adorned 7'-10' Designer Trees
Beautifully adorned 4'-6' Designer Trees
Wreaths
Centerpieces & Collectibles
Nativities
Quilts
Scones & Sweet Rolls
Sweet Shoppe
Elf Emporium
Gingerbread Village
Gift Shoppe
Kid's Korner
Playhouse Plaza
Live Performances
Santa Land
More information will be available July 3, 2023. For additional questions, please contact festivaloftrees@imail.org.
Patient Stories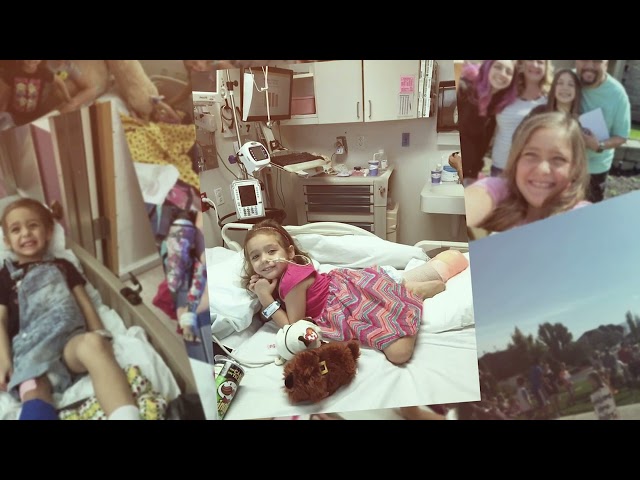 Meet Brailey
In August of 2016, four-year-old Brailey suffered a traumatic accident in which she lost her right leg below the knee. Brailey was then Life Flighted to Primary Children's Hospital while her parents drove to meet her there from Pleasant Grove, Utah. "It was the longest drive of all time," her dad, Jacob, said. Brailey spent 29 days at Primary Children's, three days in the ICU, and the remainder in the trauma department.

Now 11 years old, Brailey loves playing soccer and basketball, and running around with her dog Appa. "People ask me questions, and we like to say funny stuff about it," Brailey said. "Like attacked by ninjas."

Brailey continues to receive care to refit her prosthetic leg as she grows. Inspired by the team who treated her injury, Brailey wants to become a general surgeon one day. Funds raised during the Festival support the children at Primary Children's Hospital. Your donation makes a difference.
Sponsorship Opportunities
More information on 2023 sponsorship opportunities coming soon.
We are pleased to announce proceeds from this year's event will continue to support Intermountain Primary Children's Hospital to build the nation's model health system for children.
By sponsoring this year's Festival of Trees, you will have the opportunity to reach thousands of community members and become a part of the Festival Legacy!
To learn more about the sponsorship opportunities, please email festivaloftrees@imail.org.