When you sign up today, you may change the future of disease tomorrow.
Why participate in HerediGene: Population Study?
Tori, Breast Cancer
Tori's life was shattered by cancer. But her daughter's doesn't have to be. You can make a difference for families like Tori's.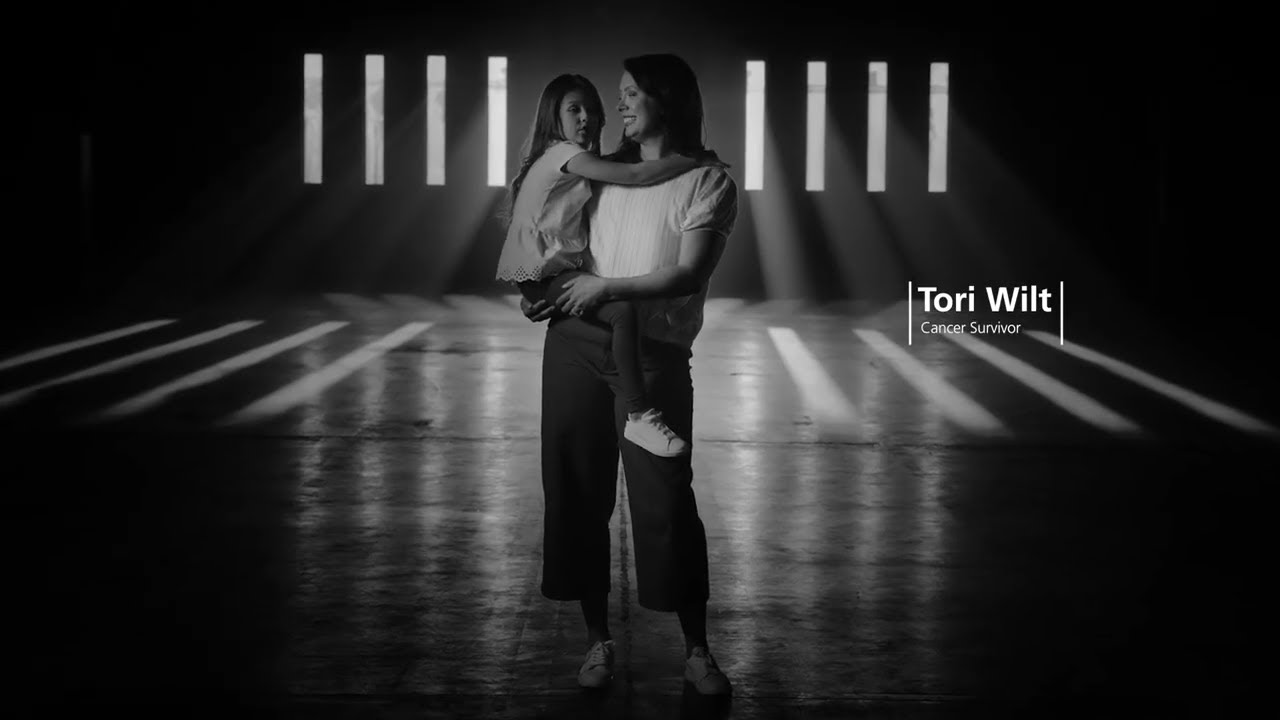 125,000 Enrollments Today
HerediGene: Population Study aims to study the genes of 500,000 participants to better predict and prevent serious diseases.
Who can join?
Any U.S. resident is eligible to take part in the study. Children can join the HerediGene: Children's Study at Primary Children's Hospital. Learn more about eligibility and age requirements below.
Some people may be eligible to participate with blood they've already given. If you've had a recent qualifying blood draw, you could be contacted by the HerediGene study team.
Heredigene: Children's Study
Learn more about the Heredigene: Children's Study at Primary Children's Hospital
Frequently Asked Questions
About DNA
What is DNA?
Think of DNA as your own genetic set of instructions. This genetic makeup tells your body how to function and gives you the characteristics that make you, you!
Why is it important to study DNA?
Genes control everything from your height, to how you respond to certain medications, and even your risk for developing disease. The more we know about DNA, the more we can personalize healthcare at a genetic level. We want to discover new connections so we can prevent disease and improve treatment.
How can you tell if someone has a higher risk for disease based on their DNA?
Using genomics, our scientists analyze DNA to look for known disease-causing gene mutations. If these are present, it can often indicate a higher risk for related disease.
How can this help prevent disease?
Knowledge is the first step in prevention! Once we know what diseases you might be more prone to, your healthcare provider can create a personalized plan of action to help prevent those diseases from developing or catch them at an earlier, more treatable stage.
About Participation
Do I need an appointment to sign up for or donate a blood sample to the study?
No appointments are necessary. You may sign up online here. Then, visit an Intermountain lab or draw station to donate a small blood sample to the study. Walk ins are welcome.
What happens after I sign consent?
Drop by an Intermountain lab or draw station and let them know you're there to donate blood for the HerediGene study.
One of our skilled phlebotomists will perform a simple blood draw. Less than 2.5 teaspoons of blood are all that is needed.
If I get regular lab work ordered by my provider, can I wait to donate my blood sample until my next draw?
If you have a scheduled blood draw in the next 90 days, your provider can draw blood for HerediGene at the same time as your other lab work.
What happens with my sample after it's drawn?
Your blood sample will be de-identified and given a random number. This protects your privacy so researchers can analyze the DNA without knowing your name or private information.
If we detect a genetic variation associated with a condition we can treat, you can choose to be notified and have the opportunity to receive clinical testing to confirm at no cost. We predict only a very small number of people will have a variant we can report on. Most participants will not be contacted after participation.
If clinical tests do identify a treatable genetic variant, a federal act called the Genetic Information Nondiscrimination Act (GINA) protects you from genetic discrimination in health insurance and employment. This means health insurers cannot use your results as a reason to deny coverage or determine premium prices, nor can your employer base decisions about your employment on your genetic results.
Will I receive a report on my genetic risks?
It is predicted that a very small percentage – about 3% of the population – will receive a report identifying a known, disease-causing variant. You can choose to learn your results or refuse them. We will only report on variants we can treat and/or manage. HerediGene: Population Study results do NOT replace clinical testing. If you choose to learn your results, you will be offered clinical testing to confirm the findings at no cost.
Most participants will NOT hear back on the findings. Negative results, in which no known or treatable disease-causing gene variants were found, will not be reported back. A negative results from HerediGene does not mean you are free from the risk of genetic conditions. Talk to your doctor or genetic counselor if you have a family history of hereditary disease or believe you are at risk for hereditary disease.
Is there a cost to participate?
No, there is no cost to you. The HerediGene: Population Study will cover the cost of research testing.
Is the data I submit through the e-consent secure?
Yes, the information you submit via the secure e-consent form is encrypted and protected by law under the Health Insurance Portability and Accountability Act of 1996 (HIPAA). Intermountain has taken reasonable steps and has employed industry-standard practices and technology to ensure the integrity and confidentiality of personally identifiable information. View our Privacy Notices for more information on Intermountain's privacy practices.
Can I still join in person?
If you'd like to join in person and/or sign a paper version of the consent form, please call 1-833-698-1727 to find a location near you. There, a member of the research team will help you get signed up before drawing your blood, all in the same visit.
For Parents and Children
Can my child and I join the HerediGene Population Study?
Any U.S. resident may participate. Children of all ages may participate in the HerediGene: Children's Study for youth under age 18 with written approval of a parent or legal guardian. Children ages seven and older will need to sign a form to participate and receive written approval from a parent or legal guardian. Parents and family members older than 18 years of age may join the HerediGene: Population Study.
How can my child participate?

Your child can participate in the study in several ways:
If your child is already having lab work done, a member of the study team will draw a small amount of additional blood (up to approximately 2.5 teaspoons).
If your child isn't having lab work done, or the blood sample taken isn't sufficient, a team member can use a large cotton swab to rub the inside of his/her cheek to collect a sample (this option is only available for children under 18 years). Please have children avoid food and drink 30 minutes prior to participating.
If your child has recently had lab work done (less than 14 days before), any remaining blood from tests may be used.
Can adults participate in the study with a cheek swab sample too?
Adults are encouraged to participate along with their children, but the HerediGene: Population Study for adults was designed around blood samples; and to be consistent with the adult cohort of the study, parents will need to participate with a blood sample.
Do children need to be current patients or have lab orders to participate?
No. Children are welcome to visit to the Primary Children's Hospital Eccles Outpatient Lab (mention to the front desk/security that you are there to participate in the study) and join the study without a doctor's or lab orders.
Is there a cost to participate?
There is no cost to you or your child for participating. The HerediGene: Population Study will cover the cost of the research testing and additional confirmation testing if needed.
Can my child/ I participate at other locations?
Currently, only Primary Children's Hospital is accepting pediatric samples. Adults may also participate at Primary Children's or sign up online and donate a blood sample at any Intermountain lab.
Do I have to participate if my child does?
The study is completely voluntary. Neither our patients nor their family members are required to participate in this study.
If I choose not to have my child participate, will this impact their level of care?
You can choose not to give permission for your child to take part in the study. If you choose not to participate, your child will still receive quality standard care.
Can my child's sample be collected along with their other ordered labs?
Yes. The goal is to collect the additional two vials of blood for the study at the same time as the labs ordered by your child's physician to minimize disruption to our youngest patients. If you or your child is not already getting blood drawn, we will require a separate draw to obtain the sample.
Can my child participate if they are sick or have a known health condition?
Children with or without a known or suspected health and/or medical condition.
Who will have access to my/my child's healthcare records?
Only Intermountain caregivers and Primary Children's Hospital University of Utah employees may access a participant's personal health information for healthcare or research purposes.
What will Intermountain do with my/my child's healthcare records?
We will de-identify your and your child's data for this study so that DNA and healthcare records won't be associated with you or your child. This de-identified data is used for research.
Will participation in the HerediGene: Children's Study help if my child currently has a diagnosis or illness?
We predict that HerediGene will increase our understanding of precision medicine and improve future treatments in healthcare for all patients. We cannot guarantee that your child will receive any benefits from this study. However, if an actionable mutation (or pathogenic variant) is identified in his/her blood that may alter future treatment(s) intended to improve health, you may be contacted. Therefore, there is a potential for short- and long-term benefits with the early detection of a pathogenic variant.
How long will my child be enrolled in the study?
There is no planned end date for this study. Once your child turns 18 years old, a member of the study team will attempt to reach out to determine if your child would like to continue with the study. If your child chooses to leave the study as an adult, we will stop collecting information on him/her thereafter, but previously collected blood (and corresponding data) and health information up to withdrawal will be available for this study.
For Health Providers
How does this project empower providers as they treat patients?
Knowing if a patient has a disease-causing variant can help providers make more informed and personalized care decisions when working with patients. The research derived from this project may help to advance early detection and new treatment options for patients who are susceptible to diseases such as cancer and heart disease.
How can I get involved?
Caregivers, like all eligible patients and community members, are welcome to participate. Caregivers are under no obligation to participate. But if you do choose to join the study, your contribution may help inform the kinds of discoveries that improve healthcare for all.
If your patients approach you with questions about the study, refer them to this website to learn more and sign up.
Why is Intermountain carrying out the HerediGene: Population Study?
Intermountain Healthcare is leading other health systems across the world in precision genomics, changing the way patients plan for their health and receive care when they need it. By studying the genetic makeup of such a large group, we have the potential to make discoveries that may allow us to predict individuals' risk of disease and even prevent diseases from developing. As Intermountain CEO Dr. Marc Harrison says: "At Intermountain Healthcare, we are focusing on how to unlock the mysteries of the human genome. Our researchers know that the patient population would benefit greatly from applying genetic technology and precision medicine more fully to combating the diseases that continue to elude us as clinicians."