Welcome to the Festival of Trees
Benefiting Primary Children's Hospital
The Festival of Trees is a magical holiday tradition celebrating children's health in our Utah community. We want to thank all who participated virtually in 2021 to raise money for Primary Children's Hospital. Incredible volunteers from our community created and donated some of the most beautiful holiday decorations: extravagant trees, stunning wreaths, hand-crafted gingerbread houses, and so much more! Please download and read the stories behind many of our decorated trees!
Designer Trees
One-of-a-kind, designer-decorated trees available in our auction
Handcrafted Gifts
Handcrafted gifts made with love by dedicated volunteers – including the famous Festival Fudge – available in our Gift Boutique
Incredible Stories
Incredible stories from Primary Children's patients whose lives were changed by your support
Patient Stories
Meet Tristan
Tristan weighed 1 pound 2 ounces when he was born 13 weeks premature. Tristan was flown to Primary Children's once doctors discovered a hole in his small intestine on day two of his life. He spent his first 141 days of life in the NICU, where he was able to receive the highly specialized care he needed to survive and thrive.
"All the struggles he went through—just looking at him you'd have no idea how traumatic the beginning of his life was," says Tristan's dad, Shea. Now a happy two-year-old, Tristan is learning his shapes and colors, and practicing how to count to ten. He answers, "a more!" when his family says, "I love you," and "the end!" after finishing the last pages of a book. Tristan adores his big sister and loves to dance.
"There's nothing harder than watching your child be sick and not able to be at home with you," says Britt, Tristan's mom. "Going through our hospital experience was very long and traumatic, and I'm sure Christmastime makes it that much more hard for your family to not all be together, so the Festival of Trees is great — just to know that so many people are thinking about these children and thinking about these families who need extra love and support and cheer."
Meet Samson
Samson was born very small and early with his twin brother, Oliver – a micro preemie at 1 lb 15 oz. Three weeks after he was born, it was discovered that he had suffered from a grade IV stroke. The following day, Samson was transferred to Primary Children's to have his first surgery. A device was placed to relieve the extra fluid surrounding his brain. Samson had a second surgery when he reached 40-weeks gestation (full-term) to have a permanent device placed in his brain. With the swelling subdued, he was released from the NICU after a 109-day stay.
At home, Samson experienced dysphasia and choked on thin liquids. He ended up needing a third surgery to have a gastrostomy tube placed. With the help of his doctor, Dr. O'Gorman at Primary's, he is now eating everything by mouth and his G-tube is out. He then recently went through a fourth surgery with Dr. Jardine, who helped align his eyes to prevent crossing.
Samson was diagnosed with cerebral palsy about a year after returning home, yet he began walking at about 18 months. With the help of Wasatch Adaptive Sports, he is now learning to ride a bike. Now three and a half years old, Samson is a tough and patient kid who still receives periodic care at Primary Children's.
"The doctors at Primary Children's are all amazing and Samson calls them his friends," says Samson's mom Janessa. "Although Samson has been through a lot, and it feels unfair at times, he is the brightest light I have ever known. His name means "of the sun" and it couldn't fit him better. Even though his months are filled with appointments and therapy he loves to run, throw balls, and learn about dinosaurs. With the help of his incredible doctors, surgeons and therapies, Samson is thriving now and living a life full of adventures."
Thank you for your generous support of children like Samson through Festival of Trees.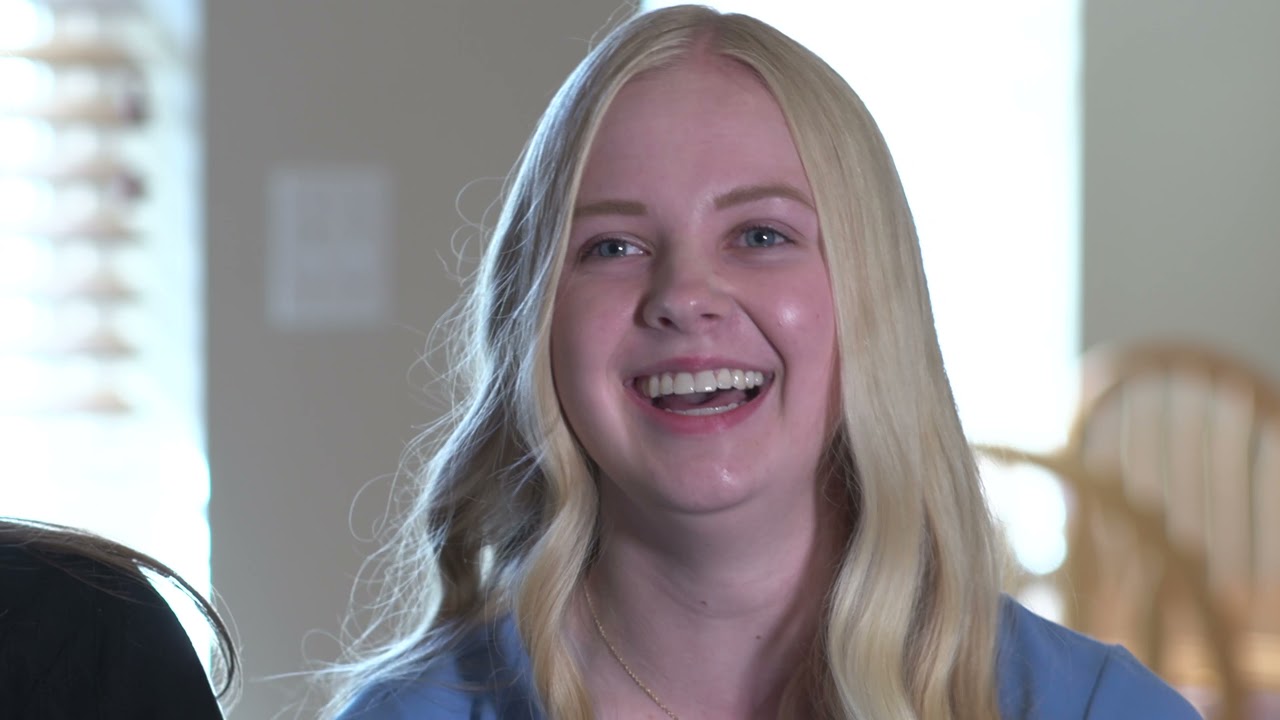 Meet Aubrey
At the start of 2020, Aubrey noticed her heart rate was lower than normal, which led to dizzy spells when she stood up and forced her to crawl up stairs. As an athlete who ran hurdles, her family was concerned about what these health changes meant.
"It's a hard thing to watch happen this to your child," says Aubrey's mom Lisa.
After visiting with her family doctor, Aubrey was referred to Utah Valley Hospital where it was discovered she had a Type 2 Mobitz II Heart Block, a life-threatening block in her heart's electrical system that impeded signals to her heartbeat.
Three days later, she was admitted to Primary Children's Hospital for surgery where she was met by a friendly face in pre-op – a nurse named Rhiann who she had met years earlier during a knee surgery.
Rhiann hugged her and offered comfort before a 4.5-hour surgery. When Aubrey woke up, the same group of nurses were there at her side.
Now 19 years old, Aubrey can receive check-ups at Primary Children's until she turns 21, at which point she and her family will receive support in the transition to an adult provider. She now attends Brigham Young University - Idaho and is studying nursing, inspired by the level of care and comfort she received from Rhiann.
"Primary Children's actually had an incredible impact on what I wanted to do with the rest of my life," Aubrey says. "I went to Primary Children's and I saw the things that the nurses did—they weren't just giving medications, and they weren't just a friendly face, they were so much more than that. They had the knowledge to take care of you, but they also had the heart to be able to take care of you that way. And not just physically, they take care of you mentally and emotionally as well."
Aubrey loves baking cakes, singing, and playing guitar.
Sponsorship Opportunities
Please join us as a sponsor of the 2022 Festival of Trees. We are pleased to announce proceeds from this year's event will continue to support Intermountain Primary Children's Hospital to build the nation's model health system for children.
By sponsoring this year's Festival of Trees, you will have the opportunity to reach thousands of community members and become a part of the Festival Legacy!
To learn more about the sponsorship opportunities please click the link below.