Meet Eva
When she was two months old, Eva was diagnosed with a life-threatening disorder.
When Eva was two months old, her parents learned she had biliary atresia, a life-threatening disorder that affects the way her liver and gallbladder functioned and required a liver transplant.
For nine months, Eva received the critical care she needed leading up to, and following, her liver transplant at Primary Children's Hospital. Donors in the community have helped improve the quality of care provided at Primary Children's Newborn Intensive Care Unit (NICU), making it the most highly specialized in the Intermountain West region.
Every day since her transplant has brought more joyful experiences for Eva. Though she's started talking later than most kids, Eva's making up for lost time. These days, she has a lot to say, and her favorite word is "hug." Eva's favorite color is blue, and accordingly loves to watch Bluey and eat blueberries.
With your support, you help the tiny patients in our specialized NICU receive the best care possible, as part of our promise to create the nation's model health system for children.
Meet Mitt
At only six days old, Mitt was flown to Primary Children's from Idaho.
At only six days old, Mitt stopped eating and was extremely lethargic. He seemed in pain but was too weak to even cry. After seeing a local NICU doctor, he was flown to Primary Children's Hospital in a helicopter from Idaho where he was diagnosed with Pediatric Congenital Ureteropelvic Junction Obstruction (UPJ).
After undergoing two surgeries, Mitt is one of hundreds of children outside Utah who have benefited from Primary Children's expert care with the support of generous donors.
Now 7 years old, Mitt has no lingering complications. He loves LEGOS, dinosaurs, and the Avengers. His parents say he's interested in anything that involves a game and doing tricks on the trampoline.
Read Hallie's Story
"What should have been a quick peek at our baby turned into an appointment that diagnosed her with gastroschisis."
Hallie's journey started when her mother, Kristin, was 16 weeks pregnant.
"We went to the OB for an early gender check so that we could tell our parents for Christmas," Kristin says. "Instead of walking out of that appointment discussing how to tell our families, I walked out trying to hold back tears. What should have been a quick peek at our baby turned into an appointment that diagnosed her with gastroschisis."
Gastroschisis is a birth defect that occurs before the baby is born. There is an opening in the baby's abdominal wall and the baby's bowels push through the hole and develop outside the baby.
Although their local hospital had local level four NICU, it lacked a doctor with the specialization to adequately treat Hallie's condition, and she was referred to Primary Children's.
After Hallie was born, she made the trip to Primary Children's Hospital where she began her treatment, including an IV, intubation, and a special bag to support bowel movement.
After surgery, Hallie needed to wait six weeks for her bowels to start working on their own. Following some initial setbacks, Hallie was finally able to finish her treatments without any complications.
"The surgeon was phenomenal. The entire staff was kind and friendly," says Hallie's mom Kristin. "They explained things to us and made sure we understood what decisions were being made and why they were being made… The staff and Primary Children's [were] amazing and so supportive during our stay and we are still good friends with one of Hallie's nurses."
Hallie is now a happy four-year-old who loves to read books and play with her brothers.
Learn About Aubrey
"Primary Children's actually had an incredible impact on what I wanted to do with the rest of my life"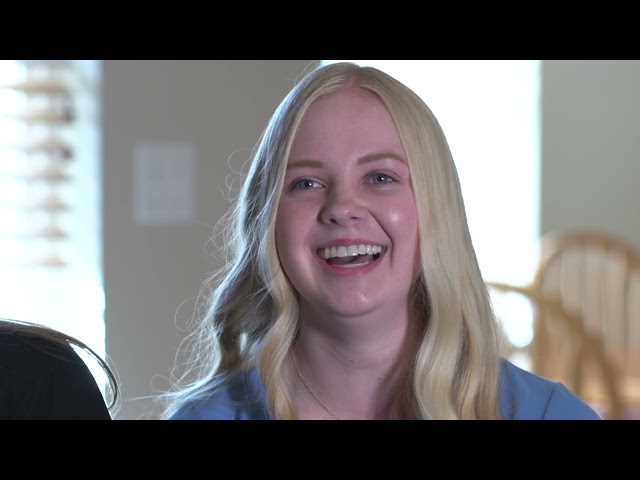 At the start of 2020, Aubrey noticed her heart rate was lower than normal, which led to dizzy spells when she stood up and forced her to crawl up stairs. As an athlete who ran hurdles, her family was concerned about what these health changes meant.
After visiting with her family doctor, Aubrey was referred to Utah Valley Hospital where it was discovered she had a Type 2 Mobitz II Heart Block, a life-threatening block in her heart's electrical system that impeded signals to her heartbeat.
Three days later, she was admitted to Primary Children's Hospital for surgery where she was met by a friendly face in pre-op – a nurse named Rhiann who she had met years earlier during knee surgery.
Rhiann hugged her and offered comfort before a 4.5-hour surgery. When Aubrey woke up, the same group of nurses were there at her side.
Now 19 years old, Aubrey can receive check-ups at Primary Children's until she turns 21, at which point she and her family will receive support in the transition to an adult provider. She now attends Brigham Young University - Idaho and is studying nursing, inspired by the level of care and comfort she received from Rhiann.
"Primary Children's actually had an incredible impact on what I wanted to do with the rest of my life," Aubrey says. "I went to Primary Children's and I saw the things that the nurses did—they weren't just giving medications, and they weren't just a friendly face, they were so much more than that. They had the knowledge to take care of you, but they also had the heart to be able to take care of you that way. And not just physically, they take care of you mentally and emotionally as well."