Saving more lives by expanding care at St. George Regional Hospital
Public Event
Sunday, November 19 – Tuesday, November 21
Dixie Convention Center – Exhibit Hall
1835 S Convention Center Dr, St. George, UT 84790
Gala & Live Auction
Saturday, November 18
Dixie Convention Center – Exhibit Hall
1835 S Convention Center Drive, St. George, Utah 84790


The Jubilee of Trees has been a keystone philanthropic event in the St. George region for 40 years, benefitting Intermountain St. George Regional Hospital. Community members from Utah, Arizona, and Nevada come together to share their creativity and talent, creating a magical holiday experience, with all dollars raised going to expand, and enhance, the available services at St. George Regional Hospital.
Each year, the most urgent community needs are assessed and determined by hospital leadership to choose a cause area for the Jubilee of Trees. Thanks to the generosity of those who participate in the event, St. George Regional can better meet the critical needs of the growing population in the region. Ensuring the right care, in the right place, at the right time.
The Jubilee is open to the public, where individuals and families are invited to join in an open-house style event.
We also invite you to attend the Jubilee Gala on opening night, with a live auction.
Cause Area
A hospital is where newborns first meet parents, and where families sometimes say final farewells to loved ones. It is a place of both joy and pain – of life and death – and many phases in between. Lifesaving miracles happen here every day.
Through the Jubilee of Trees over the past 40 years our community has helped grow care here to nationally recognized excellence, elevating services and strengthening individual well-being. We value and honor our history, our donor family, and the healthcare trailblazers who, together, bring world-class healthcare home.
St. George Regional Hospital is an investment in you, and in our community. Join us as we continue to push the boundaries of healthcare and to redefine what's possible in emergency care delivered locally and beyond. With your support, care at our hospital will continue to exceed expectations as this region has become one of the most sought-after destinations to live the healthiest life possible.
Intermountain Health – it's personal.
Generation spanning care provided in one, close to home location. St. George Regional Hospital is prepared to provide exceptional care to a growing newborn population, active adult lifestyle, and late-stage life care to live the healthiest lives possible.
St. George Regional is a Level II Trauma Hospital, where it's critical to have the highest quality and safety with 24-hour immediate coverage by general surgeons, as well as coverage by the specialties of orthopedic surgery, neurosurgery, anesthesiology, emergency medicine, radiology and critical care.
St. George is an exploding community ripe for increased innovation and entrepreneurism paired with world class care - together, we're creating a destination for the highest quality of life and healthcare.
With philanthropic support, St. George Regional Hospital can better meet the needs of a growing community and incorporate technological advancements, advanced surgical services, and telehealth to allow broader support.
About the Event
Join us Sunday, November 19 – Tuesday, November 21, 2023
The Jubilee of Trees is a great way to start your Thanksgiving week off with family and friends while supporting St. George Regional Hospital. You will be transported to a Christmas wonderland where all dollars raised go towards expanding, and enhancing, the available services at St. George Regional Hospital. Tickets go on sale November 1, 2023.
Public Event
Sunday, November 19 – Tuesday, November 21, 2023
Sunday & Monday 10:00 AM – 9:00 PM
Tuesday 10:00 AM – 5:00 PM
Gala Live Auction
Saturday, November 18, 2023
6:30 PM – 9:00 PM
Location
Dixie Convention Center – Exhibit Hall
1835 S Convention Center Drive
St. George, Utah 84790
Silent Auction
The online silent auction opens Sunday, November 19 at 10 AM and closes Tuesday, November 21 at 5 PM and will be accessible to all who wish to participate (whether attending in person or not) through the link under How to Participate on this site!
The 2023 Jubilee of Trees Silent Auction will showcase:
Beautifully adorned Designer Trees 7'-10'
Beautifully adorned Enchanted Forest Trees 4'-7'
Gift Baskets, Packages, etc. all donated locally from our community!
It's the responsibility of the silent auction item winner to pick up their purchased item. Silent Auction Item pick up will be
Tuesday, November 21, 6 PM to 10 PM
and
Wednesday, November 22, 8 AM - 12 PM
.
Shoppes
Not just about the trees, the 2023 Jubilee of trees will also showcase:
Bakery & Sweet Shoppe
Gingerbread Houses
Handcrafters Guild
Kid's Shoppe
Visits with Santa
Live Performances
Wreaths
Beautifully Adorned Mini Trees 1.5'-3'
Beautifully adorned Designer Trees 7'-10'
Beautifully adorned Enchanted Forest Trees 4'-7'
FAQs
How do I get tickets?
Tickets go on sale November 1, 2023. You can buy tickets online via eventbrite. You will need to show your unique ticket code on your phone or print your tickets to show at the door. You can also purchase tickets at the door with your credit or debit card. No cash is accepted.
Are concessions and food available?
Yes, concessions food and beverages will be available for purchase.
Why have the Jubilee of Trees event dates changed from previous years?
We are accommodating with the availability of the event venue.
Can anyone become a Tree or Wreath Designer?
Yes! The Jubilee of Trees is always recruiting new designers that have a passion for the cause and ability to share their time, resources, creativity and talents. Visit the Get Involved section to learn more.
Is cash accepted?
No, please make all purchases with a credit or debit card.
Can I bring a stroller to the event?
Yes, you are welcome to bring your stroller.
Will there be wheelchairs available for use?
Yes, wheelchairs will be available in limited quantities and cannot guarantee availability. Wheelchairs are on a first-come, first-serve basis. Please ask an event volunteer on-site to request one.
How to Get Involved
The Jubilee of Trees is a yearlong effort, thanks to the dedication of hundreds of volunteers. You can get involved by giving a few hours of your time to set up the event, using your creative design skills by creating a tree or wreath to auction, or by taking a larger part in developing the event.
Learn what goes on behind the scenes and sign up for one or some of the options below.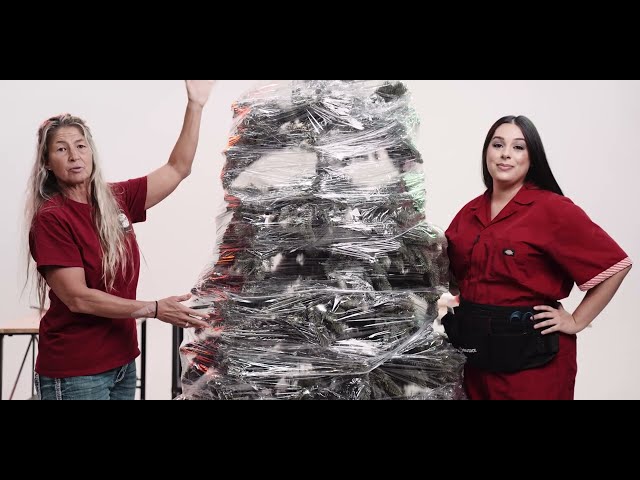 For Designers
Learn how to properly assemble your tree with the required tools and materials to ensure that your tree is stable and safe for viewing at the event and can be transported to its new home safely.
Jubilee of Trees Gala & Live Auction
The Jubilee of Trees Gala is an opportunity to fully engage with our cause area and make a difference for the community. Host a table for you, your family, friends, or colleagues to attend a high-end evening featuring a sit-down dinner, live auction, and private viewing of the exhibit hall.
Dixie Convention Center - Exhibit Hall
1835 S Convention Center Drive,
St. George, UT 84790
For any questions, please email JubileeofTrees@imail.org.